A professionally planned guided tour in Belgium, Holland and Luxembourg can be one of the most enjoyable experiences in your lifetime.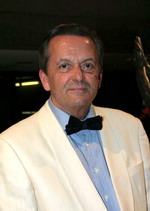 Mike Eyns
private guide in Belgium, Holland and Luxembourg
Mike Eyns is just the right person to make sure that your visit to Belgium lives up to your highest expectations by providing his guests with every courtesy.
Although Mike can offer you a selection of some popular planned Brussels city tours and day trips to nearby cities and attractions, he makes a point of getting to know each visitor and learning about your own unique interests. Drawing upon his extensive knowledge of the attractions and activities and his lengthy experience as a private guide in Brussels, Mike will offer suggestions for a tour designed specifically for you. Whether you are interested in culture and history tours of the city's fascinating art museums and breathtaking architecture, a gastronomical tour involving waffles, chocolate and beer, or if you'd prefer to enjoy sightseeing and nature tours of the tulip fields and the Sonian Forest, you can see everything this amazing city has to offer with the courteous assistance and direction of your personal guide.
As a fully licensed private guide in Belgium, Mike provides driving tours within the city of Brussels and throughout Belgium, as well as walking tours in Brussels. This experienced tour guide has been serving the tourism and hotel industry of Belgium for more than 45 years. He utilizes his experience to smooth the way for his guests, providing such amenities as reservations for airlines and hotels, with airport transfer, restaurant reservations and tickets to concerts.
Mike provides comfortable, luxurious transportation in his personal Mercedes for groups of up to 4 people. Larger groups of up to 8 people can be accommodated by a minivan for an additional fee. Mike makes a point of always charging fair prices for his services with no hidden fees or surprise charges. His numerous satisfied clients will attest to his trustworthiness regarding his rates, allowing you to feel confident that you are receiving a fair value for your guided tour in Brussels.
This reputable private guide in Brussels is fluent in several languages and can provide you with translation services as well. Brussels is a bi-lingual region of Belgium, whose citizens speak Dutch and French.
Mike speaks both Dutch and French, as well as English, German, Spanish and Swedish.
When you entrust your visit to Brussels to Mike, you can rest assured that you will receive friendly and professional service provided by the most knowledgeable guide in Belgium.